Air duct cleaning
In five years of existence, our company earned good reputation among consumers, with the hard and reliable work of high-skilled and motivated professionals. Using the most modern technology, gives us an opportunity to work with no complaint record, which is the main goal of our company. We respect and appreciate our customers and their needs.

Why it is important to clean the system regularly?
Indoor air pollution is a serious health hazard affecting millions of Americans.
Researchers claim it contributes to more than half of all illnesses,including sinusitis,allergic rhinitis, asthma and more. A surprising number of contaminant sources thrive in the indoor environment. Common household pollutants include dust, mold, pollen,and insect remains.

Reducing the sources of contaminants that may trigger adverse health reactions is an important part of keeping indoor air clean. Cleaning the air conditioning and heating system will remove allergens like dust and mold from the air distribution system that serves the indoor environment.
Also keep in mind that:
Dirt and debris may collect in your ventilation system blocking ductwork and key components of the furnace, including the evaporator coil and blower.
Build-up of these contaminants in the system can restrict airflow causing it to work harder and longer, thus expending more energy.
By cleaning the entire HVAC system, you may see an increase in the energy efficiency of your system, which in some cases translates to lower utility bills. These cleanings may also extend the life of your furnace or air conditioning system by reducing wear and tear.
Dirty Dryer Vents Are The # 1 Cause Of All Household Fires.
Video #1: Main duct cleaning
Video #2: Register Vents Cleaning
Video #3: A/C coils cleaning
Video #4: Helps to see the reason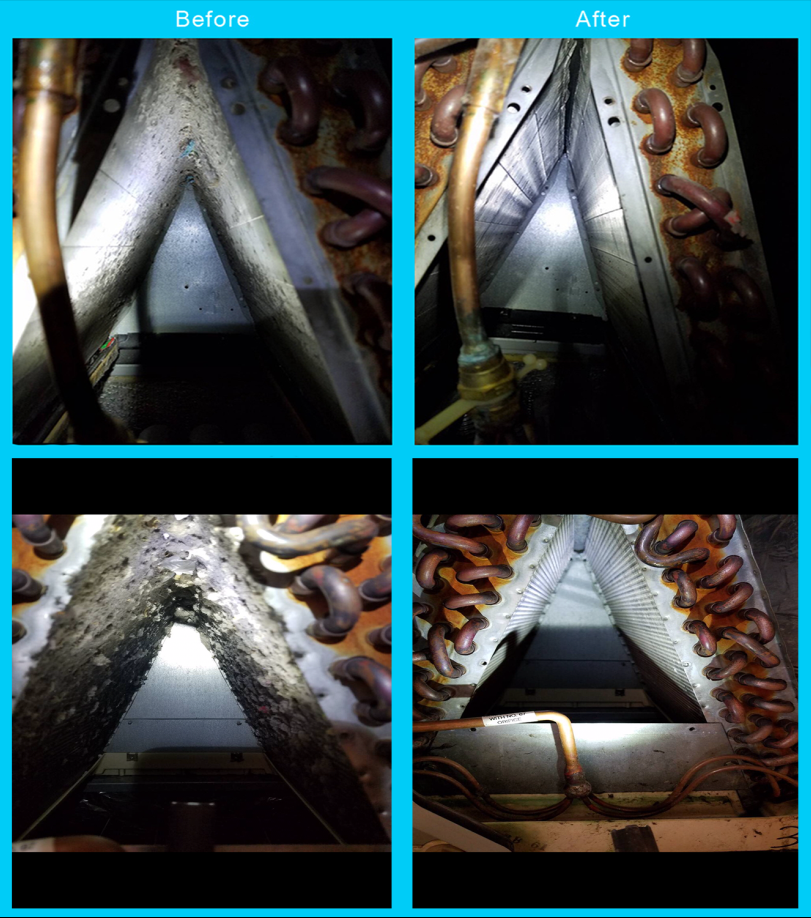 We go to each individual vent in your home with both compressed air AND the vacuum system. If you have 10 vents in your home, we vacuum and clean from 10 separate areas.

By cleaning in a smaller section of ductwork at a time, we maintain a higher air volume in the ducts, resulting in a much better duct cleaning. This is how we differ from a negative air pressure duct cleaning. With over $20,000 of professional duct cleaning equipment, we get the job done right for you.

1. Tightly close all the vents of the system;

2. With the help of high-powered equipment negative pressure creates vacuum in the system;

3. Open one separate vent forming a straight vacuum line from this vent;

4. With a brush, compressor and vac clean the inside system of dust, and other contaminants;

5. Vent by vent, starting with the farthest vent from the main duct and cleaning the main duct in the end - whole system is cleaned. In case of a complicated system location or its unordinarity, we provide individual alternative cleaning methods. We use special remote video equipment to inspect the system if needed.



Dryer vent is clean
Our company also provides service of cleaning furnace, coils, steam anti-mold desinfection after cleaning, UV lamps installation, and cleaning dryer vent.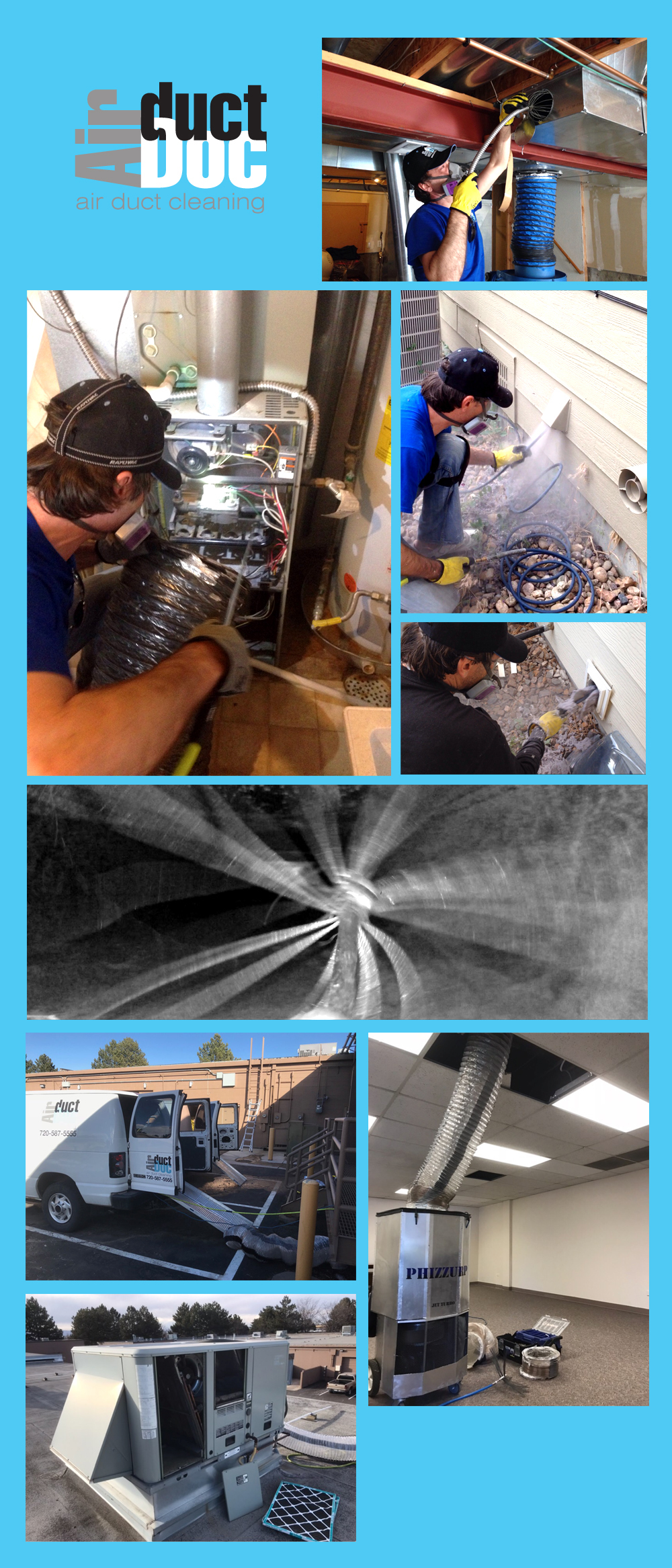 Recommendations:

- Сhange filters at time specified on them;

- Ensure filters are properly installed ;

- Set UV lamp to control allergen viruses;

- Check the condition of dryer vent as it accumulates a large amount of lint which carries a risk of fire and is combustible. Such vents should be cleaned yearly at least, as contamination can cause their clogging and failure. In the worst case it is needed to dismantle the wall to clean the vent.
Air duct cleaning in Denver, Colorado.
Our estimated prices (call for the discounts and specials!):

$ 18 - register vent cleaning in Denver, CO;
$ 24 - cold air return cleaning in Denver, CO;
$ 125 - dryer vent + dryer cleaning combo in Denver, CO;
$ 120 - coils cleaning in Denver, CO;
$ 75-125 - anti-mold treatment in Denver, CO (depending on the size of the system);
$ 125 - air filter panel installation;
$ 145 - chimney sweep and cleaning in Denver, CO;
$ 295 - UV lamp installation in Denver, CO.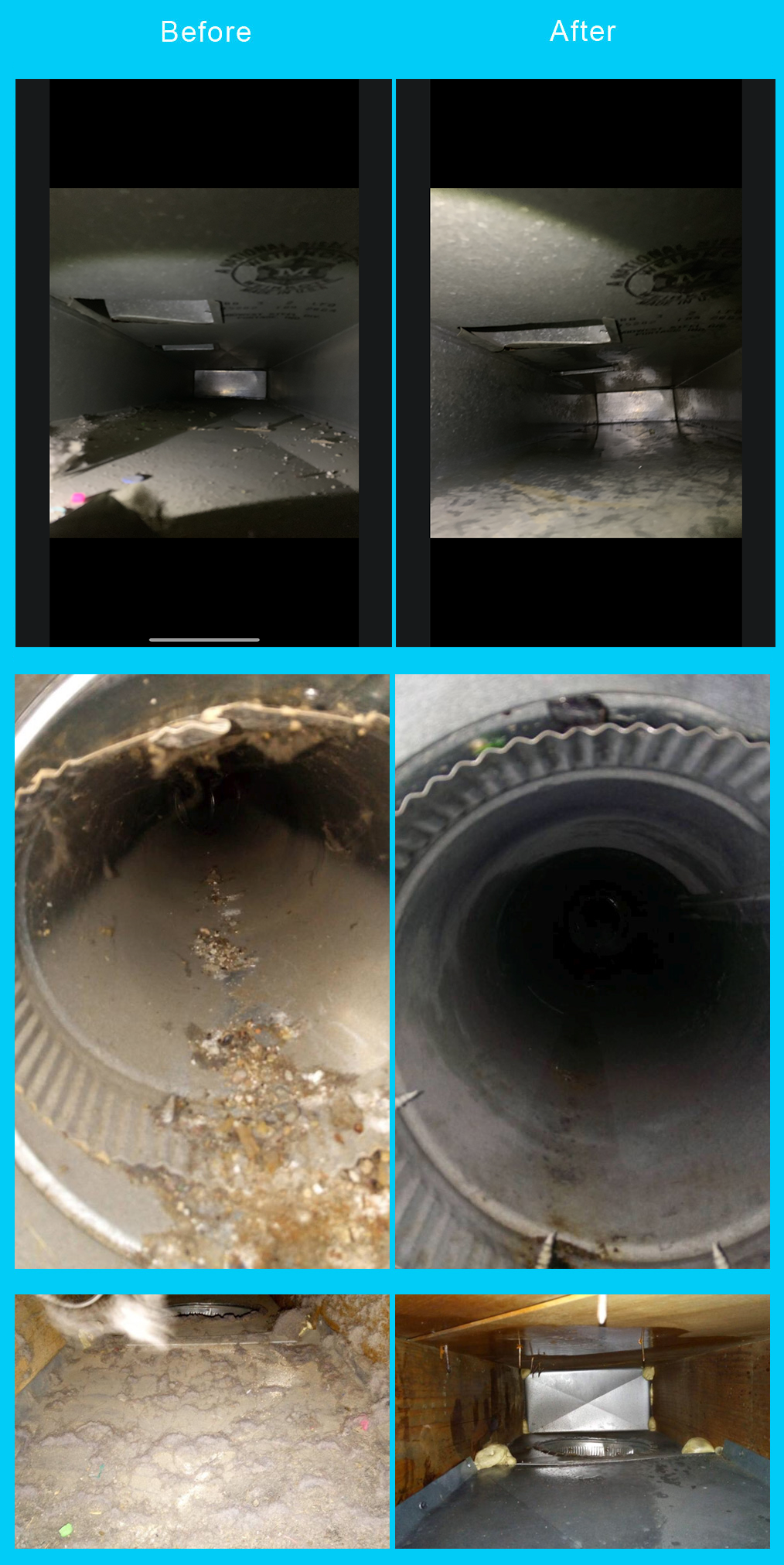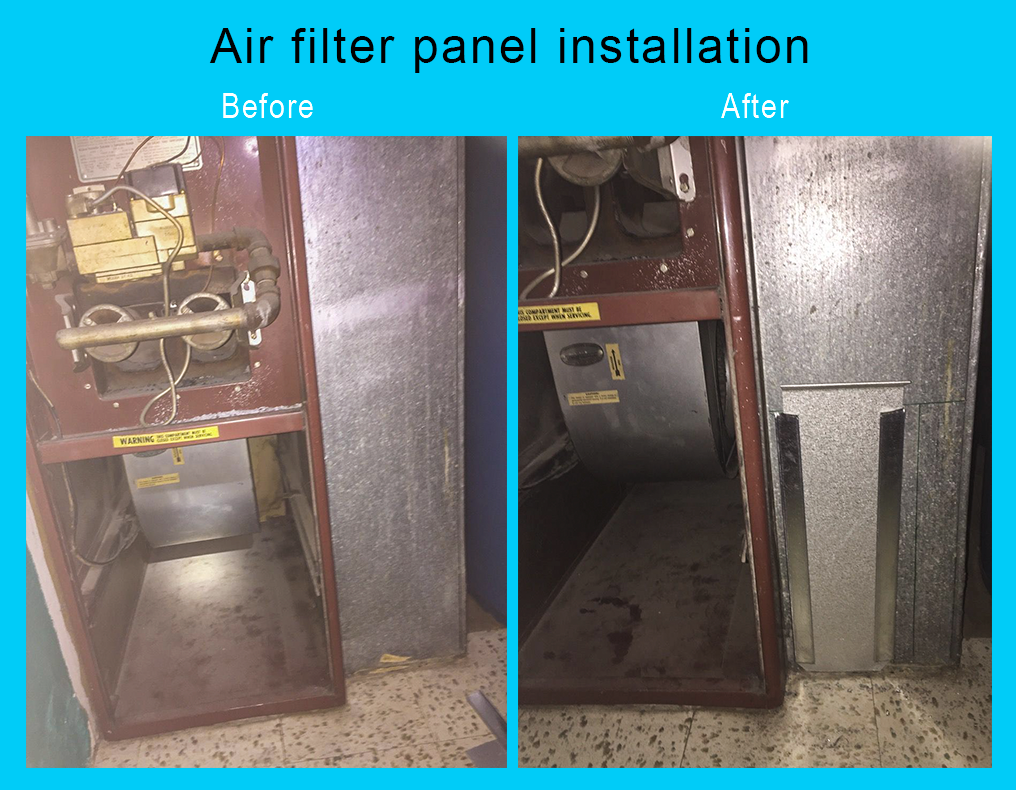 'Patient work and experienced knowledge' AirDuctDoc, 2012.